Services & Capabilities
Choosing an electronics manufacturing services (EMS) provider is an important decision. Working with a company that has the capabilities you need and demonstrates best practices at all levels gives you access to manufacturing resources and expertise that enhances your credibility and profitability. With over 4 decades of experience, Semi-Kinetics has developed a comprehensive list of capabilities from quick-turn prototyping to high-volume turnkey solutions. Our processes are certified to the highest standards with full traceability throughout every step of production.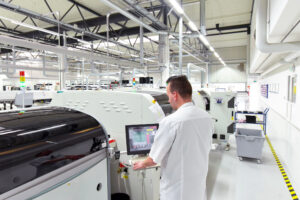 Design For Manufacturing (DFM)
Optimizing designs for manufacturing is a fundamental first step in every project we undertake. DFM done early in the process identifies potential issues and resolves them before they become costly mistakes.
With over 40 years of PCB assembly experience, we have accumulated valuable DFM knowledge and expertise. Our team will review your designs for manufacturability and provide advice that will help you achieve a higher quality product at a lower cost.
Surface Mount Technology (SMT)
Semi-Kinetics is a leader in the industry with decades of experience in advanced PCB assembly technology.
Semi-Kinetics SMT solutions utilize the latest automation equipment enabling mass production of PCBAs with small-scale components and higher component densities including double-sided circuit boards.
Our SMT capabilities include fine pitch placement of  ball grid arrays (BGAs), chip-scale packages (CSPs), package-on-package (POPs), flip chips, fiber optics, RF microelectronics, press fit pin connectors and the smallest 01005 SMT components currently in use today.
​​​​​​Through-Hole Technology (THT)
THT and hybrid SMT /THT are commonly utilized in aerospace, military and high-power applications where exceptional reliability and mechanical strength is required.
Our through hole assembly capabilities include automated insertion machines, wave soldering and cleaning equipment.
Our insertion equipment is supplemented by highly-skilled hand soldering technicians. Our technicians are IPC and J-STD certified for hand soldering PCBAs for aerospace, military and high-voltage power applications.
Rigid & Rigid-Flex PCB Assemblies
Semi-Kinetics has decades of experience manufacturing rigid and rigid-flex circuit assemblies for weight reduction, mechanical stability and space-savings.
Rigid-flex circuits commonly used in the aerospace and military industries, and more recently in circuits that need to be rolled, folded or contorted into small spaces to support high density interconnections (HDI) and the miniaturization of electronics.
Rigid-flex circuitry consists of multiple inner circuit layers attached with adhesives, similar to multilayer flexible circuits. However, a multilayer rigid-flex circuit incorporates a PCB externally, internally or both as needed.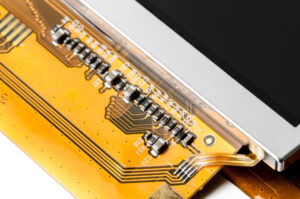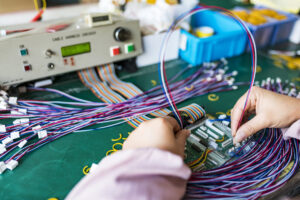 Wire & Cable Harness Assembly
Semi-Kinetics offers a wide range of cable assembly options, from small quantity prototype orders to large volume blanket orders.
We have experience working with many different wire gauges, insulation types, jacket materials and thicknesses needed to meet a wide range of  applications and operating environments.
Every cable assembly and wire harness we produce is 100-percent tested to required industry standards including MIL-SPEC, J-STD, UL, and ISO (NSF-ISR certified) standards, and backed by our ongoing commitment to quality and excellence.
Electro-Mechanical Assembly
With decades of manufacturing experience, our assemblers can build some of the most complex electro-mechanical assemblies used in aerospace, defense, industrial and medical applications.
Due to the complexity of wiring and component integration these assemblies must often be put together by hand.
Our skilled technicians follow detailed blueprints to integrate electronic circuitry with mechanical components and subassemblies. Examples include switch and sensor assemblies, panel assemblies, power supplies and transformers.
Complete Box Build Assembly
A box build can be simple, complex or anything in between, from installing a printed circuit board assembly (PCBA) into an enclosure, to assembling electro-mechanical systems complete with cables, labels and packaging. We can even ship on demand to your customers.
The benefits of working with Semi-Kinetics as your turnkey box build manufacturing partner are profound. From streamlined project management to reduced overhead costs, our experienced team can handle everything from procurement, and scheduling to logistics, so you can focus on the sales and marketing of your product.
Circuit Board Protection
Making products weather-resistant typically means using adhesive materials rather than screws, bolts and fasteners. Underfills, encapsulants, sealants, conformal coatings and potting materials can significantly improve the reliability of PCB assemblies, especially when they are used in harsh environments.
Semi-Kinetics can help you choose the right adhesives for your application based on over 40 years of industry experience and strong relationships with adhesive material experts.
Functional Testing
Semi-Kinetics rigorously test the products we build to validate functionality. Utilizing a battery of tests, we check everything from signal behavior to opens/shorts in solder connections, ensuring all electrical and functional design parameters have been met.
We use automated and semi-automated test equipment. For example, our ICT flying probe equipment uses small pin-like probes that move rapidly over a PCB assembly accessing test points. Probe landing points are controlled by software for precise movements that accurately and very quickly validate pads and solder connections.
Quick Turn Prototypes
Semi-Kinetics can help validate new product designs by producing working prototypes in small quantities. We can deliver prototypes with quick turnaround time thanks to our extensive experience, efficient prototyping processes, and cutting-edge technology.
Prototyping will get your new product off to a great start by turning a vague set of requirements into a functional PCB assembly, with specifications and manufacturing requirements documented and ready for production.
We move your innovations quickly from prototype to new product introduction (NPI) by helping you navigate the complexities of launching a new product.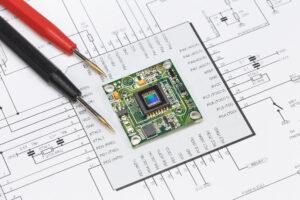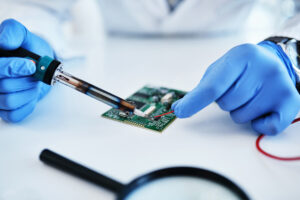 Product Lifecycle Management (PLM)
When you work with Semi-Kinetics, we are available to support your product through all phases of the life of your product.
Once your product is available in the market, our turnkey PLM manufacturing services can ship spare parts directly to your customers, distributors or field technicians and perform warranty repairs and refurbishments. We can even provide product reclamation services at the end of a product's life.
Semi-Kinetics understands that responsiveness is required to meet the needs of your end users. We work in a time-sensitive global marketplace, and respond quickly to customer service requests, delighting your customers.
Flexible Fulfillment & Logistics
Semi-Kinetics understands your need for a manufacturing partner with flexible, responsive, and scalable logistics. Our manufacturing and supply chain solutions, along with a strong logistics network, meet these requirements to fulfill customer expectations.
To best serve our customers, Semi-Kinetics offers local pick-up and delivery. For your convenience, Semi-Kinetics has its own mobile fleet available to meet your delivery and pick-up needs.